Employment
Novick Group is the proud Bronze winner of Insurance Journal's
2015 Best Agencies to Work For in the East Coast!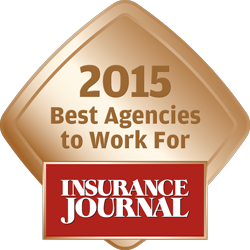 Success within any organization is defined by the contributions of each employee.
Novick Group, Inc. is in need of talented insurance professionals for a variety of positions. For those who meet our standards we provide an exceptional and rewarding work environment. We offer in-depth training, paid educational assistance, an exceptional benefits package and a great place to work.
We are looking for only the best and the brightest - WE MEAN IT!
Product knowledge is required - no one gets by in our office without it
We're a team... a very good team - we want team players
Clients rely on us - we never jeopardize that trust... never
Our business model is made up of a three person service tower: Account Executive, Account Manager, and Client Service Representative. We are on solid ground with good growth ahead of us which finds us seeking to fill the following position(s):

Account Manager

Benefits • Competitive Salary • Health (employee - 90% employer paid; employee portion all other insurance paid at 100%) • Life, AD&D • Dental/Vision • STD & LTD • Flex Time Schedule • Paid Leave (two weeks first year) • 401K Matching and Profit Sharing
---
Account Manager: In our service model, the Account Manager is often the prime client contact and is responsible for assuring that we, as a team, deliver the highest level of performance across the entire platform of client service requirements.

Primary Responsibilities Include • Work closely with and guide efforts of assigned Customer Service Representatives • Meet with clients to discuss insurance and risk management topics • Conduct review and analysis of coverage portfolio • Work closely with Account Executives and principal on complex accounts • Independent interaction with carrier personnel with respect to negotiation of new and renewal terms & conditions including premiums • Ensure compliance with agency protocols and procedures (i.e. diaries, activity, binding & billing, etc) • Review all applications, policies, endorsements and audits for accuracy.

Education, Experience & Skills • 3 - 5 years Commercial Property & Casualty (required) • Property & Casualty licensed (required) • Experienced with AfW or AMS 360 (required) • Bachelor's Degree (required) • CIC, AAI, CRM, ARM, CPCU (desired) • Excellent Verbal & Written Communication (required) • Fluent Spanish (desired) • Microsoft Suite (Word and Excel) (required)
---
To apply for consideration, please send cover letter and resume with salary requirements to HR Department at hr@novickgroup.com.

For more information on these positions, please e-mail us.

Novick Group, Inc. is an Equal Opportunity Employer.